They've Sheltered In Place long enough…
After 10 months of social distancing, most people are ready to get back to "normal."  Meet Maurice & Stella, two of our long term adoptable dogs who have been at BHS for over 24 months. Both of these wonderful dogs have sheltered in place long enough and deserve a chance to reclaim their own "normal," yet despite our best efforts at BHS, it has become apparent that this won't happen for them while in a traditional animal shelter.  Luckily, an opportunity has arisen to increase their adoption chances elsewhere.
Miranda's Rescue, in Fortuna CA, has space available for both Stella & Maurice!  There they will receive specialized, behavior modification training and have the opportunity to find their forever homes in a new location.  Our goal is to raise $1000 to cover the $500 per animal transfer fee – a small price to give these two a fresh start.  Miranda's Rescue has been successful with three other hard-to-place BHS animals, so we are confident that this is the right move for our dynamic duo.
Please consider making a donation to help offset the costs of Maurice & Stella's transfer fees.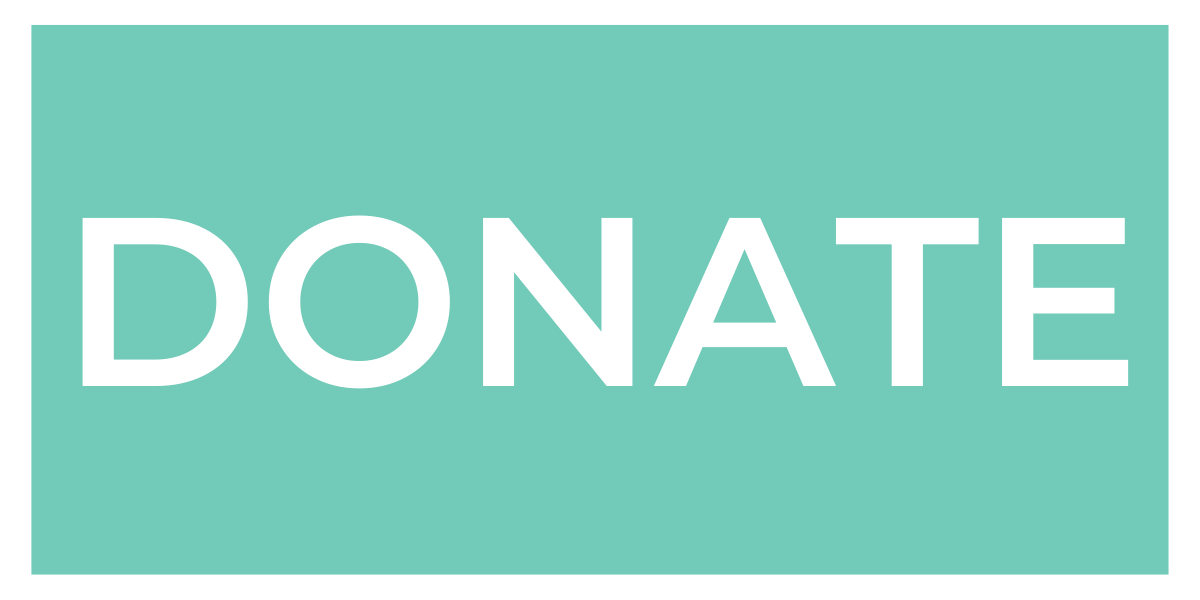 ---
Read more about Maurice & Stella from the staff and volunteers who know them best: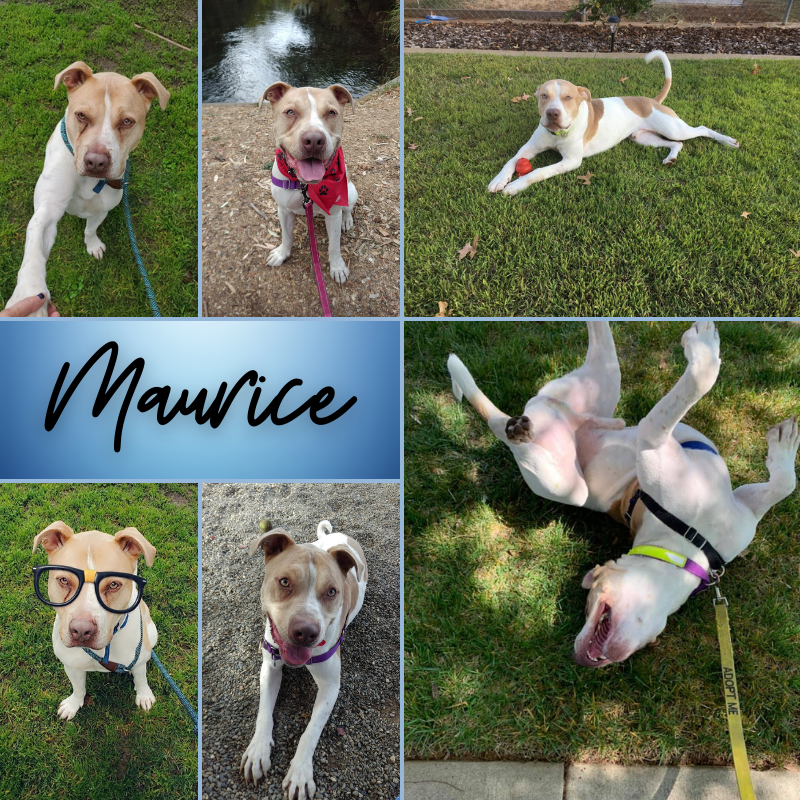 Maurice has been with BHS since September of 2017.  He has been adopted and fostered a few times, but unfortunately has not found his forever home.
"Of all the dogs I've met at the shelter, Maurice is one in particular that has won me (and so many staff and volunteers) over. I cannot figure out why he is still up for adoption. Maurice is very shy and nervous around new people, yes, but once he knows and trusts you, he is the SWEETEST boy who will absolutely melt your heart! Watching him run around enjoying himself you can't help but smile. He's got that effect on people. He always has a smile on his face when going for walks or gallivanting around the play yard.  Did I mention how smart he is? Maurice knows commands like sit, down, shake and I'm sure he can learn more! Maurice has been at the shelter far too long and deserves a loving home that is willing to let him blossom at his own pace. Whenever I go volunteer, Maurice is one dog I'm sure to take out because  I can't help but smile and be happy around him. His bright personality is contagious. While I love seeing  Maurice, I'd love to see him in a home more than anything!" – Amanda G., Dog Adoptions Volunteer 
"Meet Maurice…the guy with the cutest smile around.  Maurice, nicknamed "MoMo" by those that love him, is around 4 years old and a Pit Bull mix.  Maurice has been at Butte Humane Society since October 2019 and is in need of a new change of scenery.(it may be longer than that…not sure)  Maurice is a sweet and mellow guy.  He enjoys his walks and just hanging out.  Maurice is extremely nervous about new people…he definitely needs some time for introductions and to warm up.  But once "you're in" with Maurice "you're in".  Maurice is loved dearly by BHS staff.  He lights up when he sees you and is so happy to spend time with you.  Maurice has had little interest during his stay at Butte Humane Society.  It's time for his chapter here to close and a new one to open – and a family to call his own." – Jeanine S., Dog Adoptions Volunteer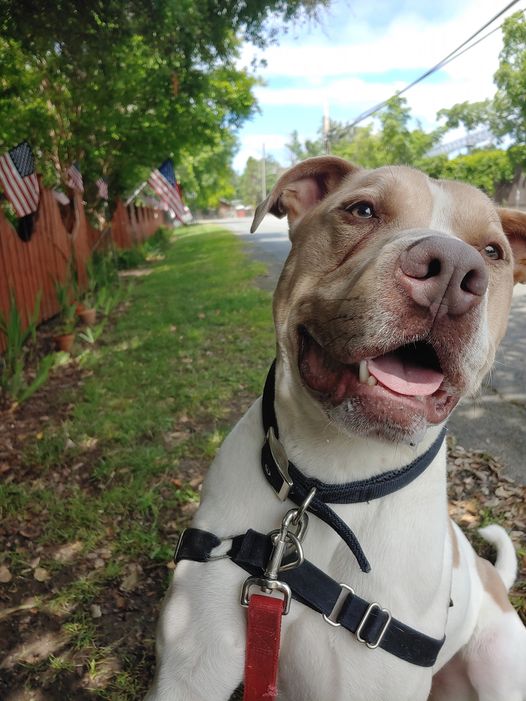 "Maurice- aka Momo! Maurice is an incredibly sweet, soft-hearted boy! He's a huge teddy bear who adores his people and will do anything for a treat. He's had a chance to bond with staff, volunteers, and fosters through his time at BHS, and those who get to know him absolutely adore him. The shelter environment is really hard for our tender-hearted boy. He gets overwhelmed by all the dogs and people walking by all the time, and longs for a quiet, relaxed environment to mellow out! He will be a dedicated, incredibly sweet, and loyal boy in the right home, and would benefit hugely from some extra love, attention, and a quiet environment. He's such an amazing pup to get to know!" – Kathleen W., Former BHS Volunteer/Foster Coordinator
"Maurice is a big guy, with a big smile. His nickname is Mo Mo. He can be a little unsure of new people. Once he gets to know you, he will show his affectionate side. He likes to get belly rubs. He shows his goofy side when he does the zoomies in the play yard. He likes to get treats and show you tricks. He likes to relax in the grass after his walks. He has been in the kennel for a long time, and he is ready to find a home." Linda B., Dog Adoptions Volunteer
---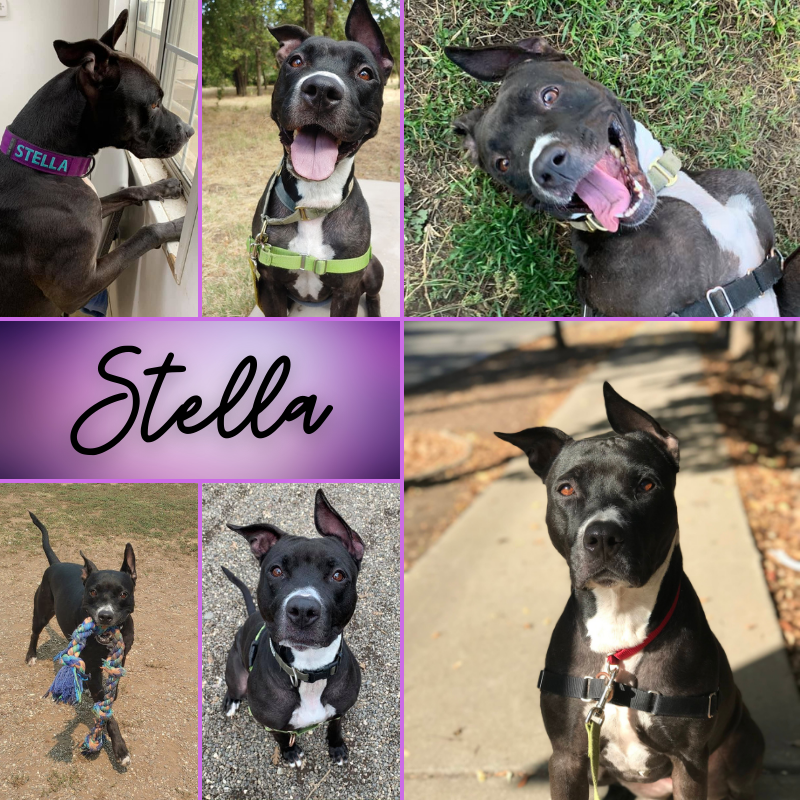 Stella arrived at BHS in July of 2019 and though she has been adopted once and fostered, she has not had luck finding the right fit for her.
"Meet Stella….the pup with the cutest ears in all the land.  Stella is a Pitbull Mix around 4 ½ years old.  Stella has been with Butte Humane Society since July 2019 and is one of the sweetest dogs we have had at the shelter.  She is very popular and loved by all staff and volunteers.  Stella is full of energy and loves to go on long walks.  Her leash manners have improved greatly over time.  She is a joy to walk and spend time within the play yard.  She runs and runs…she's fun to watch.  She also loves to jump in and out of the kiddie pool and cool off on warmer days.  Stella LOVES her people.  She gets very overly excited when she sees her favorite people and will jump and jump on them….trying to get as close to them as she can.  It's adorable.  Stella is very treat-motivated and wants to please.  She has mastered "sit" and "shake".  Stella is not fond of other animals.  She absolutely wants to be the only apple of her owner's eye.  Stella has had little interest since she has been at Butte Humane Society and we are puzzled as to why.  It's time to send her on to her next chapter.  Stella is in need of a new change of scenery to find her forever home.  Her time at Butte Humane Society has been special and she is loved dearly but she needs to be in a home, loved and adored…no more living in a shelter." – Jeanine S., dog adoptions volunteer
"About Stella: Friendly demeanor. Outgoing personality. Quick learner. Oh, and the cutest floppy ears. She wants to meet EVERY SINGLE person she sees. No, really. She is the biggest people-person. She loves to run around, go swimming and go for hikes. Stella is the perfect adventurer! Stella has so much to give, but it saddens me that so many adopters don't get to see this amazing side of this amazing dog. Stella is a staff and volunteer favorite because of how sweet she is. Does she have quirks? Yes, but what animal or human doesn't? She does not like other dogs, but who can blame her after being attacked multiple times in the past. She also has allergies that require special food and a little extra caution when on walks. None of this makes Stella a bad dog, it just means she needs a little more patience and understanding than most dogs. Stella has been in the shelter too long and deserves a loving, caring, and compassionate home! I just know the right person is out there for Stella, we just have to find them!" – Amanda G., BHS Dog Adoption Volunteer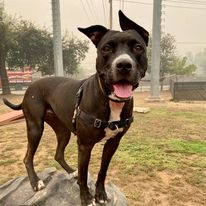 "Stella has puppy dog eyes. She has been waiting to find a home. She loves people, and she is eager to please. Her favorite trick is to shake. She likes to get out of her kennel. She is an active girl. She enjoys going on long walks. She likes to learn new things. She is ready to find a forever home." – Linda B., Dog Adoptions Volunteer
"When Stella arrived at the shelter she was really overwhelmed, but that didn't stop her from instantly falling in love with the staff and volunteers. We noticed quickly Stella had a difficult time coping with the number of dogs surrounding her. Butte Humane Society Dog Adoptions staff and volunteers love every ounce of Stella, especially her personality. Every time a familiar volunteer comes to walk her she'll throw her body into theirs and 'play' just as if they were canine-related. Stella absolutely loves the water! She will dart around the play yard and thrash herself into the pool. The staff & volunteers at BHS have been working with Stella to do everything to increase her chances of adoption. Basic manners, lots of energy outlets, crate training, and leash manners are skills that Stella is developing. Stella would benefit greatly from someone who can give her an indoor & outdoor space for her energy. Stella loves to explore and adventure but will benefit best if her person continues to follow through with structure and manners with love and care. Stella really would love to go home with someone who can bring her swimming. We feel a single person or couple's household would be best, she must be the only pet in the home and feel she'd do best without young children." – Shannon W., BHS Canine Behaviorist
---