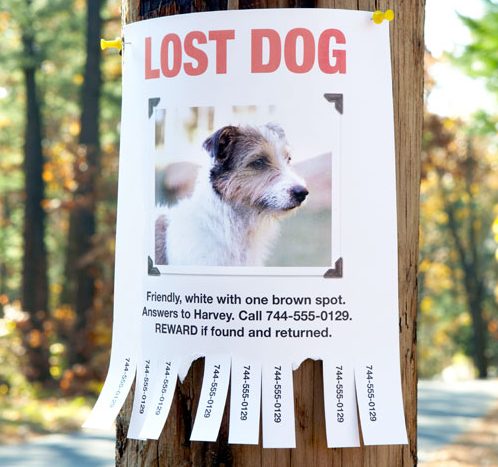 Written by Honey Souza, Humane Education Coordinator
PART ONE: Prevention
A three-part series of what to about missing pets.
One in three pets go missing in their lifetime and it's not necessarily the result of bad pet owners. Countless factors could contribute to pets being separated from even the most exemplary pet parents. Your four-year-old niece leaves the door open, a tree falls on that fence you painstakingly built, you got in an accident and your pet ran off in fear.
It can happen to anybody, to any pet, but follow these steps to reduce the possibility of that happening:
Secure your borders. You were responsible and went for the house with the six foot fence around the entire proper perimeter. Great! Now inspect your fence regularly as natural elements may weaken or damage it over time; including moles and even your own dig-prone pet.
Microchip*. Anyone who has anything to do with animal welfare as a profession will tell you to microchip your pet. Be sure your vet checks for it at your animal's annual check-up, just to make sure it's still working and your info is up-to-date.
Identification Tags*. This is obvious, but so many pets are found without them. Make sure your information is current and includes your cell phone number. Whether you put your pet's name on the tag is up to you, but if you're concerned about somebody stealing your pet, you don't want to make it easy for them to call your pet's name.
Recall. Train your pet to come when called. It's easier said than done, especially once your terrier spies that squirrel and you cease to exist. It takes time, patience, and repetition. Hire a trainer if you must. It will be worth it when that squirrel is on the other side of a busy street.
Reduce Boredom. Pets love adventures! Give your pet enough mental and physical stimulation while you're home so that it doesn't try to find its own entertainment while you're gone.
Spay & Neuter. This should be a no brainer, yet it is the cause of so many lost pets, both male and female. Male dogs have been known to jump over (or even through) six-foot fences with ease to get to a female in heat. They will find a way, which is why, unfortunately, shelters exist. Remember, fences mean nothing to cats.
Car Seat Belts. Accidents happen and they're even scarier for pets than for humans, which is why they more often than not run off after an accident occurs. Get a pet seat belt and make sure it's fastened to the back of a harness… not the collar. Can you imagine what would happen in a collision when a dog is restrained by the neck? This goes for dogs in truck beds too. California law states that any animal in the back of a truck must be encaged or tethered.
*Low-cost microchips and identification tags are available at Butte Humane Society.