By: Emily Acevedo, BHS Shelter Operations Manager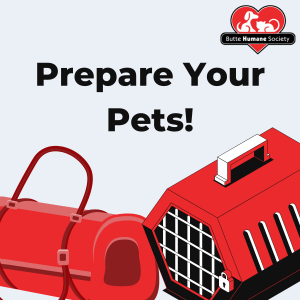 With summer rapidly approaching, it is clear that wildfire season is here. Northern California continues to be an area that is home to fires and evacuations during the warm, dry months. Here are some tips to help keep you ready to evacuate your pets quickly and smoothly.
1. Get Your Pets Microchipped
Have them microchipped and make sure their registered information stays current. Especially for pets who have been microchipped for a while. This is critical! Many animals end up in temporary shelters when they are pulled from evacuated areas and unfortunately, a very small percentage of them have microchips or proper identification. Microchips are a permanent form of identification that can be scanned easily and ensure that your pet is reunited with your family easily in the event of an emergency. If your pet is already microchipped, check their registration annually and update any phone numbers or addresses when they change.
2. Keep a Bag Ready
Prepare a go-bag for your pets. It should include bowls, food, leashes, collars and any medication or preventatives they are on. This is helpful in the event that you cannot return home for a long time due to evacuation orders. It can also be helpful to have a current copy of their medical records in case you need to take them to a shelter or boarding facility for an extended duration while evacuated.
3. Be Proactive With Your Pets
Acclimate your pets to carriers for safe transportation during an emergency. If you have cats or small dogs who need to be transported in a carrier, the last thing you want to have happen during an emergency evacuation is try to try to force them in. The best thing you can do is acclimate them beforehand. Leave the carrier out in a common area for them to explore in their normal environment, in a low-pressure setting. Reward them with a small treat when they enter the carrier- positive reinforcement goes a long way! Make sure to have your carriers in an easily accessible location with any blankets or toys they will need pre-loaded.