By Emily Acevedo, BHS Shelter Operations Manager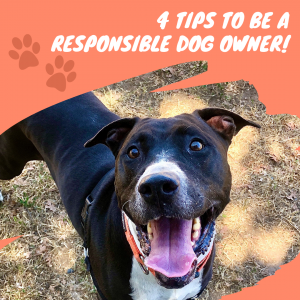 September is Responsible Dog Ownership Month! Considering adopting a dog or already have one? Dogs don't need perfect pet-parents, but they do need owners who take the steps necessary to ensure they live happy and healthy lives. Check out our tips for being a responsible dog owner below!
---
Adopt a dog that suits your home and lifestyle:
Research breeds prior to selection (this can take time, and that's ok!) and select a dog that you can provide adequate exercise, shelter, food, and medical care to.
2. Plan to invest in your dog's medical care:
Make sure your pet receives preventive health care (annual exams, vaccinations, dental care, parasite control, etc.), from puppy-hood up through their senior years. Many vaccines and preventatives require annual boosters after their puppy series. Talk with your vet at your annual visit about any changes to your dog's environment or activities so they can make sure they have everything they need to stay happy and healthy.
Budget for emergencies or unexpected illnesses as much as possible.
3. Be responsible for your pet in your community:
Carry waste bags when you are out and about and clean up after your pet. It helps prevent the spread of disease.
Obey all local ordinances, including licensing, leash requirements and noise control.
Don't allow your dog to roam. Keep them secured on your property, in your home or yard.
Spay or neuter your dog as soon as they are old enough to prevent overpopulation.
4. Keep them safe:
Make sure your dog is microchipped and has a collar with a tag. Always make sure your contact information is up to date in the microchip registry as well as on their collar.
Keep an evacuation bag ready for them with food, medication, vaccine records and anything else they may need should you need to evacuate your home.
Thank you for being a responsible dog owner!