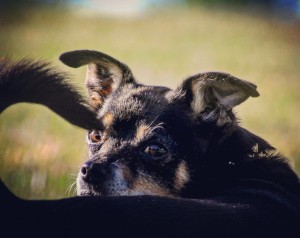 Written by Alexis George
As we prepared to trek across America in our little Subaru with our already adopted 6 year old chihuahua, Peanut, we thought to ourselves she might be happier with a travel buddy… That's when we started looking into rescuing another chihuahua, and found Indiana at the Butte Humane Society. We named him after Indiana Jones because of all the amazing adventures he was about to go on!
We drove down from Reno, NV to meet Indy and fell in love right away! He had been at the shelter for a month due to his age of 5 years, but let us tell you, he is a puppy at heart. Just as soon as we got him into the car for the ride back up the mountain, he felt like part of the family, all bonding immediately. He was so happy to join us in his new home and soon there after, life on the road.
We traveled from California to Florida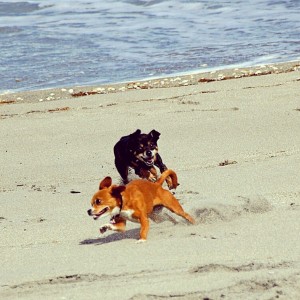 and back over a 2-month period with Peanut & Indy, both traveling amazingly well and having so much fun! Our adventures took them camping, hiking, beach combing, snow playing, chicken farming, and more. Indy is such a loving, friendly little guy. He is literally ALWAYS wagging his tail and makes friends (2 & 4 legged) everywhere he goes.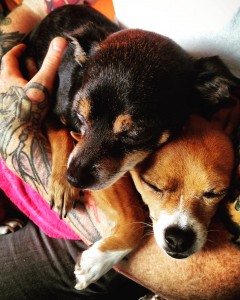 He and Peanut are best buds, often found cuddling and play wrestling together. If we can't find either of them we just look for the sunny spot and they will be sprawled out basking together. He is happiest when sitting on our laps sharing his love. It is hard to believe Indy was brought in as a stray, but we're sure glad he was! As the saying goes, "Who rescued who?!" definitely applies for our family. Indy can make us smile even on the rainy days, which we had plenty of during our travels.
We look forward to more adventures to come with our new family of four.
Many thanks to Butte Humane Society for all that they do to help animals find forever homes. We believe 'Rescued' is the best breed and hope you will consider adopting a dog or cat from your local shelter too, in hopes that you'll feel as lucky as we do! 🙂
Big Hugs, Warm Wishes, & Puppy Dog Kisses,
Alexis, JohnPaul, Peanut & Indy