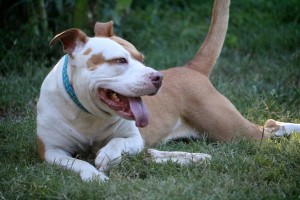 Written by Taylor Sinclair, BHS Intern
Sunshine, one of our most loving canines, was adopted on Saturday, June 25th at our Mobile Adoptions at the Chico Library! Mobile Adoptions are a great way to see the animals outside the kennel environment and to get to know their personalities.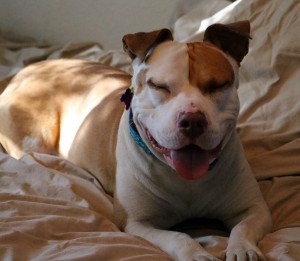 Sunshine had been with us for only a short month, but we had all grown to love her beaming personality so much! Erica, her new owner, was instantly drawn to Sunshine from the moment she started walking up to the library.
"One look into her eyes and I knew she was supposed to come home with us," said Erica. The connection was instantaneous and an hour later, Erica and her partner Steve, came back with their dog Riley to have a meet and greet between the two dogs and were soon at the Adoption Center posing for an adoption photo with Sunshine.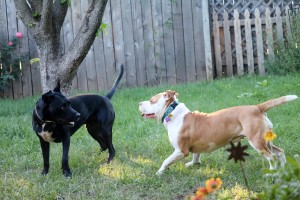 Sunshine is adjusting very well, enjoying her new backyard and her new friends. Sunshine, Riley and their third dog, Ares, have become best buds, roaming around the house as a happy pack. Sunshine has had no trouble making herself feel at home and we could not be more happy she has found her forever family!