(Please see bottom of page for campaign updates – Last update October 2019)
The Journey Home Overview
Butte Humane Society (BHS) is one of the oldest non-profit organizations in Butte County, California, working since 1911 to bring humanitarian care to dogs, cats and other companion animals. We are proud of our long history and commitment to animals and of our work in preventing animal overpopulation with our low-cost spay/neuter clinic. We are advocates for animals and we support the human-animal bond through outreach and education. Our services save lives and build community. We are committed to excellence and have begun the process of creating a new vision for our facility.
Click here to read Ken Grossman & Katie Gonser's Camp Fire statement.
The Need
Currently, BHS has three different locations, each with their own significant challenges. We rent space from the City of Chico at our Fair Street shelter and can only house 29 dogs on-site. Furthermore, we are restricted to taking in dogs from city limits only, which means BHS cannot take in at-risk animals from other parts of Butte County.
Our Cat Adoption Center and low-cost Veterinary Clinic, located on Longfellow Ave, are miles away from our other buildings – making day to day communications and pet transportation a little more difficult.
Lastly, our administration offices are in yet another location—a warehouse—where we do our best to manage the organization from makeshift, cramped offices.
It is time for a new investment in our community—one that will far surpass the current standards of animal welfare. For the past 18 months, we have been working with a team of dedicated local businesses and individuals to design our future: the animal welfare and education hub of the North Valley.
Join us on the journey home!
Highlights of our NEW Facility
With over 10,000 square feet of animal space and plenty of wide-open community spaces, our new shelter will be an amazing place to adopt, volunteer and learn.
Shelter designed with present and future needs in mind
Medical care facility with spacious surgical suite
Separate cageless cat colonies for adoptable cats
Larger, canine kennels with direct access to outdoor exercise area
"Get acquainted" private rooms for adopters and pets
Separate entrance for admission of animals to the shelter
Separate isolation rooms each for dogs and cats
Larger lobby/reception area, with a separate service desk to welcome and service visitors
Community center for meetings, training, education, and community events
Designed to accommodate a wide variety of storage needs, including animal supplies, food, equipment, staff supplies, etc.
State-of-the-art HVAC system to promote animal health
Employee and volunteer rooms encourage community participation
Proposed Animal Shelter + Community Center Rendering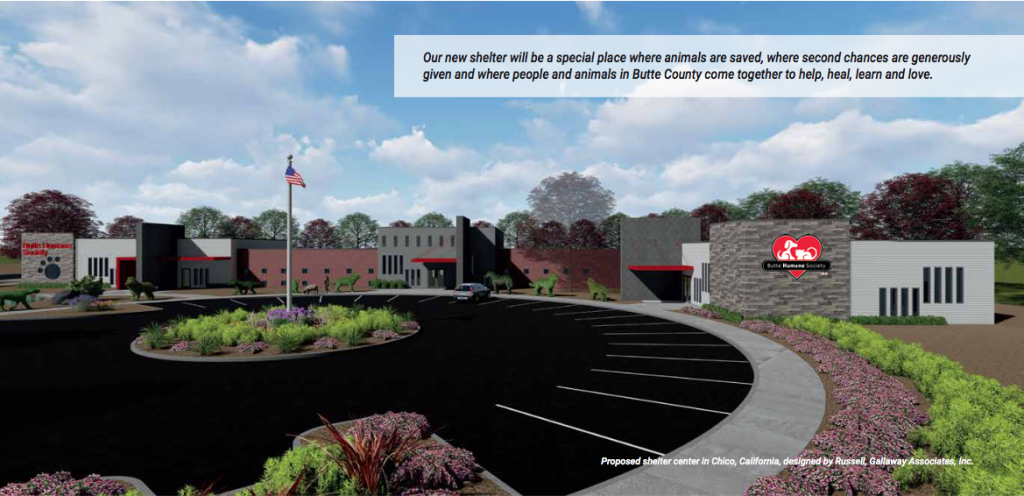 Join Us on The Journey Home
To donate or volunteer, please contact us:
Butte Humane Society – Capital Campaign
PO Box 7654
Chico, CA
Phone: 530-893-6613
Contacts:
Kristy Haber, Campaign Coordinator
capitalcampaign@buttehumane.org
---
How to Donate…
Gifts of Cash 
The easiest and most direct way of supporting Butte Humane Society's Capital Campaign is a gift of cash.
Gifts of Stock 
Avoid capital gains through a gift of highly appreciated stock while taking a full value deduction on your tax returns.
Recurring Monthly Donation 
Recognizing that many caring people may not have the capacity to make a sizable gift at any one time, we suggest the alternative of making a smaller gift on a monthly basis.
Matching Gifts
Many corporate employers will match their employees' gift to a 501(c)(3) non-profit. If your company has such a program, please request their matching gift form and send the completed form to us.
Bequest 
Leave a legacy of love by remembering Butte Humane Society in your will.
Services or Items 
If you have a professional service or product you wish to donate to the capital campaign, please let us know. Services such as painting, construction, building materials, artwork, etc. will all be considered.
---
Campaign Update October 2018
The campaign is almost at its one year mark and we have reached $5.5 million on our project thermometer. The total project is valued at $11 million.
Campaign Update February 2019
The campaign is almost at its one year mark and we have reached $6.5 million on our project thermometer. The total project is valued at $11 million.
We have received a generation donation from CLIF Bar as the recipients of their Second Responder Fund. Click here to read more.
Campaign Update July 2019
We have raised close $8 million towards our overall goal of $11 million. This includes the lead gift of our property. The permitting process is steadily moving along and we anticipate being ready to break ground by Spring 2020. Keep an eye out for a video series that tells the story of the Journey Home.

Project Cost Breakdown
The land – $3 million (already donated by the Capital Campaign Chairs, Katie Gonser and Ken Grossman)
Cost to build the building – $6 to $7 million ($3.5 million raised so far)
Endowment Fund for operations – $1 million
Timeline
Our campaign is now public and we welcome the community to donate to our new facility. At the same time, We are privately approaching large donors, foundations, and grants to raise the bulk of our funds.

We plan to break-ground in 2020. The construction is being led by Modern Building.