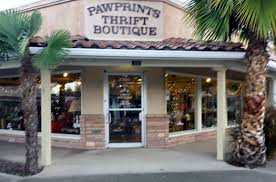 The PawPrints Thrift Boutique is a world where all dogs and cats are wanted and live healthy, happy lives. They believe neutering before animals reproduce is the way to make this happen.
The PawPrints Thrift Boutique provides funding for two spay/neuter programs: the PawPrints S/N Program which provides financial assistance to pet owners to help spay and neuter their companion animals; and the Neighborhood Cat Advocates Trap, Neuter, Return Program which focuses on stray and feral cats.
Donations of new and gently used items are gratefully accepted and may include:
Household items, Furniture, Clothing, Area rugs, Vases, Shoes, Purses, Jewelry, Antiques, Books, DVDs, CDs, Tools, Yard and Garden Items, and Pet Accessories.
PawPrints Thrift Store located at
1360 E. 1st Ave
Chico, CA 95926
Hours: Tue-Sat 10a-5p