Are you jonesing for a dog but know that you're not ready for the commitment? We've got you covered with two innovative programs that will let you and a dog enjoy a day (or days) out on the town.
Dog On the Go (D.O.G.)
Essentially, you get to rent a dog for a day. Established BHS volunteers get to take approved dogs to the park, to the creek, to a coffee shop, or just taking them home to let them enjoy a soft couch and some peace and quiet.
Bedtime Foster
When one day with a dog just isn't enough, take it home over night. What dog person doesn't love snuggling up with a pup? Your couch, bed, or floor is a retreat for a dog who has been in our shelter for days, weeks, or months. Doggo snores are the cutest!
The Benefits
When volunteers take dogs out of the shelter environment, not only are they getting a much needed break from the kennels, but we also get to learn so much more about them than we could otherwise. At the shelter we don't always know the dogs' histories, so getting them out helps us to understand more about the way they behave in a home, on a hike, in a crowd, with kids, or with other animals.
If we cross our fingers, maybe fate will intervene and the dogs' future forever families will see them out in public and fall instantly in love. Here's hoping!
The Rules
We've been doing this for a few years, so we've developed a pretty good system by now.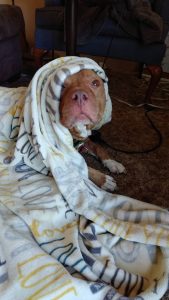 Only experienced BHS volunteers are permitted to partake in these programs. Our staff must ensure that the volunteers are fully prepared to handle any situations that might arise. We also like to ensure that the dog and the volunteer are a good match for each other to ensure the happiest outings.
Dogs must always remain on leash when in any place that is not a private, fenced-in yard. This means no dog park. Any swimming in creeks or ponds must be done according to park or property owner's rules.
While it's not a rule, we strongly encourage volunteers to take out the dogs that have been with us longer. They deserve it.
If you would like to participate in these fun opportunities, check out the Volunteer page to get started.