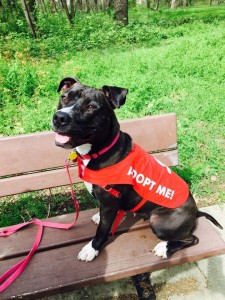 Ever wonder what it would be like to work with an animal rescue and adopt out dogs and cats to wonderful homes?  Have you ever fostered a homeless pet or wanted to?  Enjoy getting out and meeting new people with your dog?  Are you into promoting homeless pets on social media? Become an Adoption Ambassador for Butte Humane Society and find out what it's like to do it all!
Butte Humane Society's new Adoption Ambassador Foster Program allows YOU to manage the promotion and adoption of the BHS foster dog or cat that you are fostering for us.
Come to the Foster Orientation to find out what it's all about.
Who can become an Adoption Ambassador?
Possible Ambassadors include businesses, families, and community groups just to name a few. This is a great family activity that teaches responsibility and compassion for others by caring for and working together to get a dog adopted.
Why foster shelter animals?
Fostered animals are better socialized, come up-to-date with their vaccinations, receive monthly flea and heart worm preventatives, will be spayed/neutered, and will have medical care covered by BHS while in a foster home. Fostering helps children learn to be responsible, teaches empathy for others, and selflessness by seeing them adopted to a great new home.
How do I become an Adoption Ambassador?
Attend a BHS Foster Orientation
Once approved, select an AA qualified dog or cat
Receive and review your AA Manual
Promote your AA animal within the community
Approve prospective adopter
Sit in on adoption with BHS (training)
Select your next AA dog or cat
Please note: Cats are slightly more difficult due to not being able to take them out and about or to a location for a meet. There is the option of organizing a Cats Mobile AA Event, where several foster families plan it and gather all the cats together for a mobile adoption meet.
If you have any questions regarding the Adoption Ambassadors program, please contact Honey Souza at honeysouza@buttehumane.org.