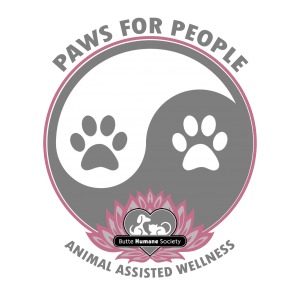 Do you believe in the power of the human-animal bond? If so, you're not alone. Therapy animals are being used at an increasing rate in a variety of settings and for a variety of purposes.
Studies have already proven that just visiting with or spending time with animals has many positive physiological and psychological effects on people but it doesn't stop there. Therapy animals can be used for therapeutic purposes as well. These range from children's literacy programs, physical and even occupational therapy.
Butte Humane Society's Paws for People Wellness Program consists of volunteers with their personal pets who have both gone through training and assessment through Butte Humane Society (BHS) to become Animal Assisted Wellness Teams. After completing the program and passing the assessments, teams are covered under BHS's general liability insurance while making scheduled visits to our partner sites.
If you are interested in joining an Animal Assisted Wellness team or having the AAW team visit your facility, please contact cad@buttehumane.org